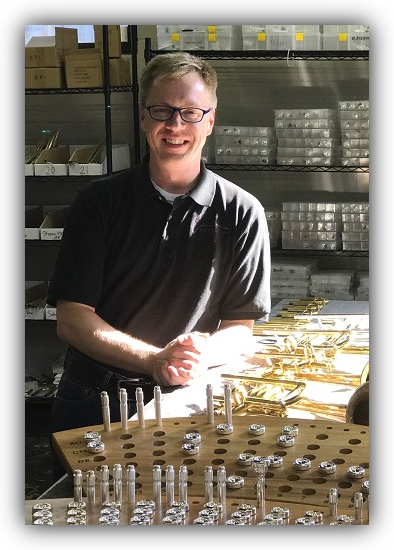 Peter Pickett
Role: Owner
In 1998 I had just started my first mechanical engineering job out of school and joined up with the local community band in Lexington, Kentucky. Most of my engineering graduate studies have revolved around acoustic modeling of the trumpet shape, proving out several observations people had made in the past. However, there was very little work done on the structure and other aspects not associated with the air-column. After playing extensively for many years after completing a BA in music, I wanted to continue my engineering masters studies on trumpet acoustics.

In 1999, I bought my first lathe and made several simple heavy bottom caps for my trumpet. To be honest, the first goal was purely aesthetic - change the look of the horn from a traditional horn to a subtly different modern look. The results were as you might expect - too much mass in the wrong place is not desirable. But it was a great and fun start to what has developed into Pickett Brass as we have it today.

After several friends mentioned that they'd like some similar trim parts, I made several more sets in various weights. We branched out to making top caps, stems, and buttons on some CNC machines that matched in appearance and weight to the newly refined bottom caps. This created something never before available - a complete and unified trim set that is not only completely customizable but also functional and beautiful to look at. We were in business.

Today Pickett Brass and Blackburn Trumpets uses state of the art CNC machines and skilled finishing, along with our years of playing and manufacturing experience with top professional artists today to produce truly one of a kind mouthpieces, trim sets, and instruments that are second to none in quality and design.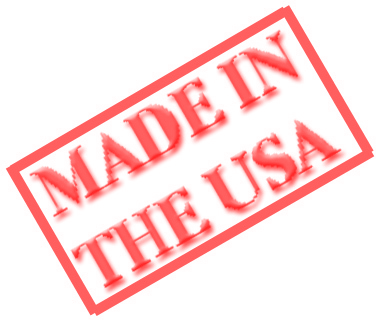 I truly hope you enjoy the craftsmanship and quality that we have developed over the years.
All products are made right here in Lexington, Kentucky, USA.


Peter Pickett
---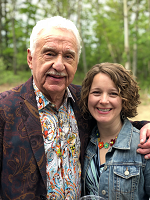 Kristen Pickett
Role: Business Advisor
Kristen joined Pickett Brass in 2007 and handles our business management and finances. She's responsible for all of our backoffice business relationships and communications.
---
Pickett/Blackburn Team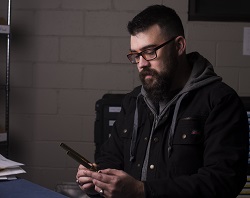 Eric Murine
Role: Director of Sales
Eric joined the Pickett team full-time in 2015 as the company's Director of Sales. Since 2008, Eric has been a top-call commercial trumpet artist for many of the top party/rock bands in the state of Kentucky. Holding musical degrees from Western Michigan University, Michigan State University and the University of Kentucky. Eric served as Interim Instructor of Trumpet at the University of Kentucky in 2009, and now teaches at colleges and various schools throughout the greater Lexington, Kentucky, area.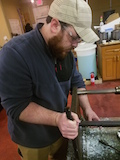 Robert Lawson
Role: Manager of Instrument Manufacturing
Robert joined the Pickett team in 2016 and is involved in all aspects of manufacturing from making trim kits to buffing and finishing to trumpet assembly. Robert also played a big part in developing the Pickett trombone mouthpiece line and enjoys helping customers with any of their trombone needs. Robert graduated from Eastern Kentucky University with a degree in Music Industry Studies/Trombone.


Greg Sutherland
Role: Bell Craftsman
Greg joined Pickett Brass in 2014 with a singular focus on making trumpet bells as part of the transition of Blackburn Trumpets. Studying directly with Cliff Blackburn, Greg has closely worked to replicate Cliff's craftsmanship.

Zach Whitson
Role: Manager of Mouthpiece Manufacturing
Zach came aboard in 2016 while still in school. Having graduated college studying trumpet and music industry at Eastern Kentucky University, he is now a full time team member. Zach is involved with much of the manufacturing side of the business, including designing and manufacturing mouthpieces, and managing all of the mouthpiece order schedules and logistics.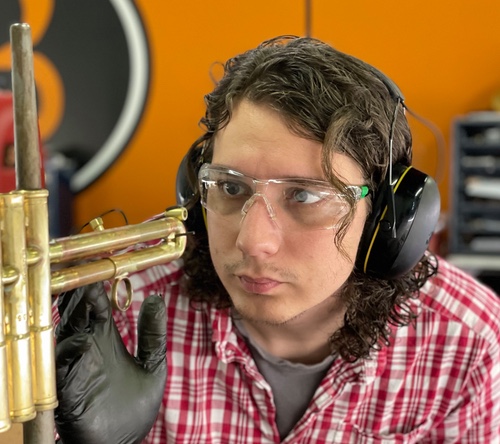 Ryan Courtney
Role: Instrument Manufacturing Apprentice
Ryan is currently enrolled at Eastern Kentucky University as a Bachelor of Music student in both trumpet performance and music industry. He joined the Pickett family in 2018 as our newest intern and has since been learning the various shop processes and further developing his skills.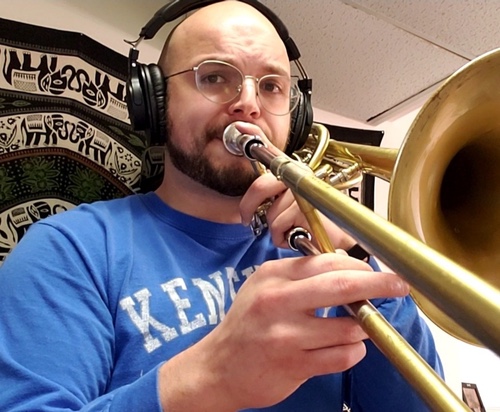 Ryon Bean
Role : Low Brass Specialist
Ryon is a Lexington-based trombonist with degrees from the University of Kentucky in arts administration and Boston Conservatory at Berklee in trombone performance. He has performed with a variety of groups including the Dimartino Osland Jazz Orchestra, New Hampshire Symphony Orchestra, Fernando Huergo Big Band, and more. Before joining the team at Pickett/Blackburn, Ryon worked in sales and customer service for a major music retailer.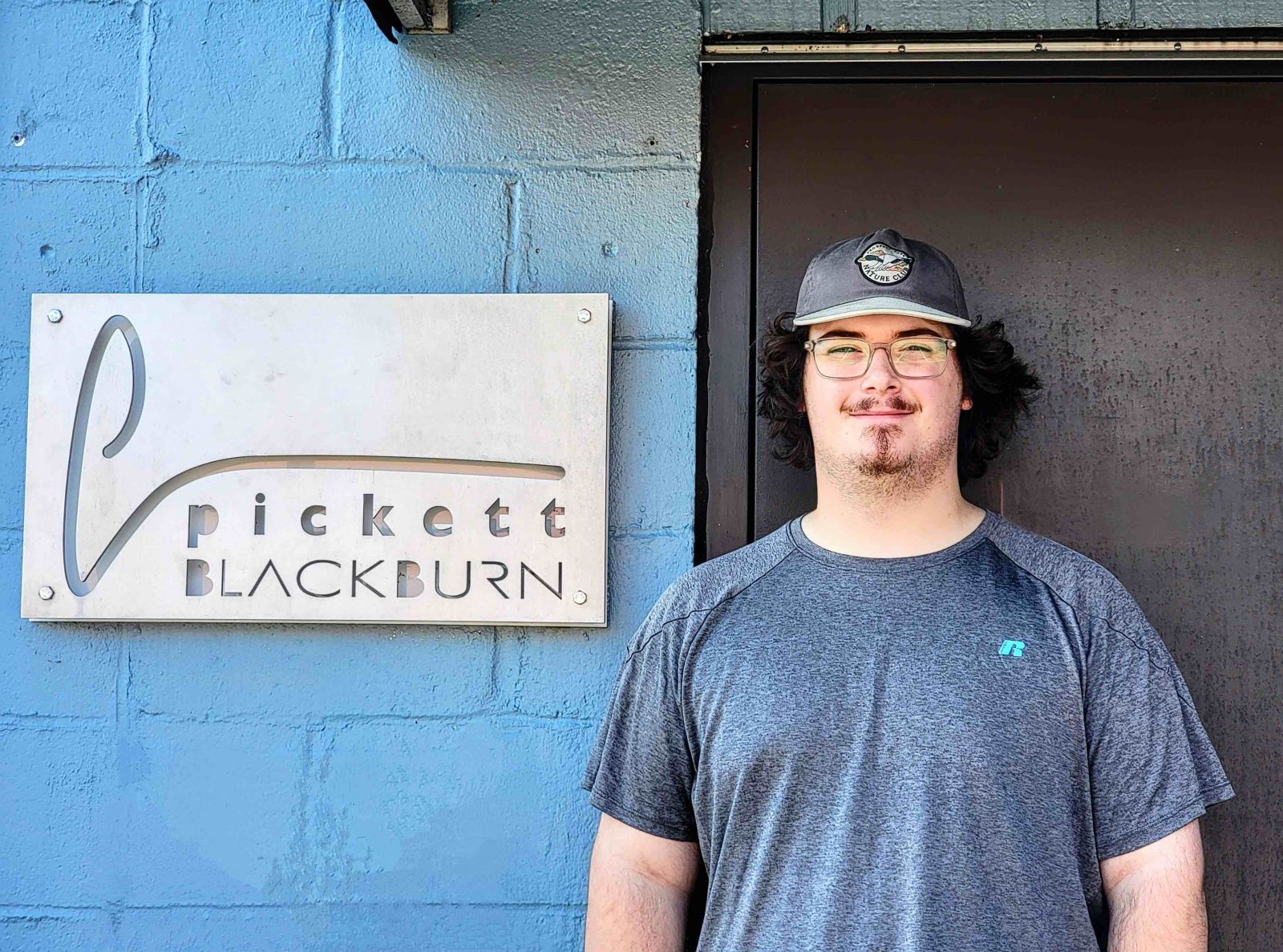 Spencer Shook

Role : Instrument Manufacturing Apprentice/Parts Fabricator
Spencer is a tenor and alto trombonist from Louisville, KY and a recent graduate of Eastern Kentucky University. At EKU Spencer performed in several groups including the Symphonic Orchestra at EKU, the EKU Trombone Society, and other chamber groups.